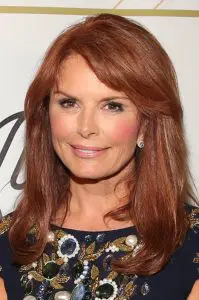 In 1988, actress Roma Downey began her acting career. Her first screen role was as Lady Johanna Leighton in the soap opera One Life to Live. She next played the role of Danielle St. Clair in the TV series The 100 Lives of Black Jack Savage in the early '90s. She then portrayed Jacqueline Kennedy Onassis in the miniseries A Woman Named Jackie. Downey rose to fame in 1994 with her starring as Monica in the CBS series Touched by an Angel.
The said show aired on television for nine seasons, making her a familiar face among TV audiences. During this period, she also made her cinematic debut in the film The Last Word, released in 1995. She also reprised her role as Monica in the spin-off series Promised Land. She went on to star in several television movies, including Borrowed Hearts, A Secret Life, and The Test of Love.
After Touched by an Angel ended in 2003, Downey Reagan Gilancy played in some episodes of The Division, as well as starred in the film Funky Monkey. Years later in 2013, she portrayed Mary in the miniseries The Bible. She also played the same role in the 2014 film Son of God. Her most recent work on the big screen was in 2018's The Baxters. The actress has also ventured into producing with the movies Son of God, Woodlawn, and Ben-Hur.
In her 60s, Roma Downey stays in shape by following a healthy diet plan and sticking to her workout routine. When it comes to her fitness, she prefers to stick to the basics. Her workouts also start her day.
"Taking time at the beginning of the day to move my body. Even a 20-minute walk in the morning is better than nothing," said the actress. She also likes exercising outdoors. "Being outdoors gives me energy. Being in nature, seeing the ocean, trees, greenery, sunrises and sunsets. The beauty and creativity of nature inspire me—making me feel alive," she said.