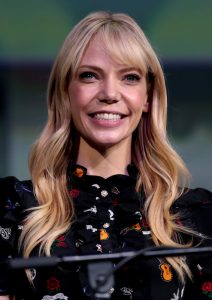 Hollywood star Riki Lindhome had her career beginnings in 2002. She first appeared in an episode of the television series Titus. Shortly after, she made a one-time role in Buffy the Vampire Slayer. She then appeared in 5 episodes of Gilmore Girls. In 2004, Lindhome made her cinematic debut with an uncredited role in the film Seeing Other People. Her first credited role was in Million Dollar Baby, also released in 2004.
She played the role of Mardell Fitzgerald in the film. While she busied herself in movies, she also continued guest-starring on television. She had one-time roles in Heroes, The Minister of Divine, Raines, and Pushing Daisies. She also played Ramona Nowitzki in 3 episodes of The Big Bang Theory. Simultaneously, the actress had performances in the films Berkeley, Pulse, Changeling, My Best Friend's Girl, The Last House on the Left, and Powder Blue.
In 2011, the actress played Harper in HBO's Enlightened. She went on to create and star in the comedy series Garfunkel and Oates. From 2015 to 2018, she starred as Beatrice Bellacourt in the sitcom Another Period. As of 2020, she is the voice of Kimberly Harris in the animated sitcom Duncanville. During this period, she had performances in the films Much Ado About Nothing, Fun Size, Hell Baby, and Under the Silver Lake. Her most work on the big screen was as Donna Thrombey in Knives Out.
Riki Lindhome stays in shape by watching what she eats. Already in her 40s, she's since learned to steer clear of carbs and sugar. While she still indulges every now and then, she keeps it in moderation. She also focuses on having clean, whole foods as part of her regular meals. Her diet plan typically consists of lean meat like fish and chicken with brown rice and vegetables. She snacks on fruits on a daily basis for its fiber, as well as munches on nuts for its proteins.