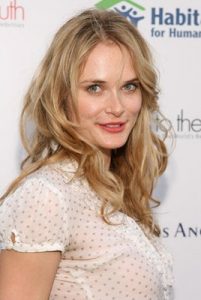 Canadian celebrity Rachel Blanchard got her start in the show business in the 1980s. During this time she mostly appeared on Canadian television. She had her first regular role on the TV series War of the Worlds. She then became known for her role as Kristen on Are You Afraid of the Dark?. Afterwards, she starred on another series, Chris Cross. She next played the lead role Cher Horowitz on the TV adaptation of the movie Clueless. In the 2000s, she was known for her starring roles on 7th Heaven as Roxanne Richardson and Peep Show as Nancy. As of 2016, she stars on the TV show You Me Her. In the movies she appeared in the films Sugar & Spice, The Wild Dogs, Snakes on a Plane, and Spread.
Rachel is back on television with her latest stint on You Me Her. Being on the small screen for years, many audiences are already familiar with her work on TV. That said, the actress is already in her 40s, which is shocking since she looks very youthful. Her secret to looking at her best is simple – healthy lifestyle. She said in an interview: "I think it's more important to be fit so that you can be healthy and enjoy activities than it is to have a good body."
With this she makes sure she mostly eats nutritious foods every day. She avoids unhealthy ones, apparently, like those high in sugar, salty and greasy. She knows for a fact that consuming lots of these foods would only make her more exhausted and would mess with her healthy weight. She focuses on lean protein, whole grains and foods rich in fiber. She also consumes lots of fruits and veggies for their vitamins and minerals. She allows herself to indulge her cravings, but only in moderation.