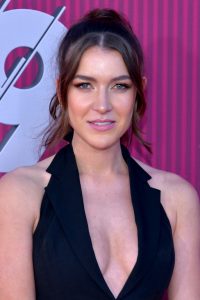 Hollywood star Nathalia Ramos had her career beginnings in 2005, debuting in an episode of Arrested Development. She later landed the role of Yasmin in the 2007 film Bratz, which marked her big screen debut. After this, she appeared in an episode of True Jackson, VP and went on to play the role of Rachel in the feature film 31 North 62 East. In the 2010s, Ramos gained recognition for starring as Nina Martin in the mystery television series House of Anubis.
It aired on Nickelodeon between 2011 and 2012. After her role here ended, she had performances in such films as Dean Slater: Resident Advisor and The Damned. She next guest-starred in an episode of Switched at Birth. Ramos turned her focus on film acting during which she landed roles in the movies Seoul Searching and Wildflower. Apart from acting, she's also appeared as herself in some television programs, including I Dream of Dinner, The Richy Show, and Christy's Kitchen Throwback.
Nathalia Ramos maintains her slender and toned figure with healthy eating and exercise. Going to the gym a couple of times per week, she engages in cardio, some weights, Pilates, and yoga. She also loves to run. As for her diet, she's since learned to cut back on carbs and anything high in sugar. She avoids fried and oily foods as well, though she still indulges in her cravings for something sweet and salty every now and then.
Typically, her diet plan consists of something high in protein like fish or chicken with lots of veggie, opting salad as part of her meals daily. She also snacks on fruits in between meals to keep her full. She loves smoothies combining fruits and veggies to energize her throughout the day. While she's never tried any strict diets, the actress keeps herself slim by choosing healthy foods and eating in moderation.