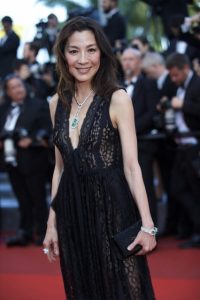 It was in 1984 that Malaysian actress Michelle Yeoh started her journey in the acting industry. Her debut was in the Hong Kong movie The Owl vs Bombo. Her role in the film Yes, Madam gained her further recognition in Hong Kong. Her career flourished in the '90s where she starred in several action films. It was, however, in 1997 that she rose to international fame for her performance in the Hollywood movie Tomorrow Never Dies. Her performance in 2000's Crouching Tiger, Hidden Dragon cemented her prominence, earning her nominations. She later starred in the movies Memoirs of a Geisha, Sunshine, and The Mummy: Tomb of the Dragon Emperor. In 2010, she starred in Reign of Assassins. She later reprised her role as Yu Shu Lien in Crouching Tiger, Hidden Dragon: Sword of Destiny. She will star in the upcoming movie Crazy Rich Asians.
Despite her age, Michelle Yeoh is one of those actresses who has managed to stay slender, fit and radiant all these years. She credits her amazing physique to her healthy lifestyle. She eats a clean and a well-rounded diet and exercises regularly. As a matter of fact, she works out wherever she is. She doesn't allow her hectic schedule to get in the way. She said that ever since her physical training for the James Bond movie Tomorrow Never Dies, it has since become natural for her to focus on her fitness.
"We'll call this the "whenever / wherever workout," she said when describing the kind of fitness routine she does. She added: "What I do is from the minute I wake up, before I get out of bed, I'm stretching." She went on to share: "Now I can hop onto a StairMaster and be on it for 1 1/2 hours. I'm very fit because of all the years as an athlete and as a dancer." She said that she exercises in any way she can. "And then when I'm putting on my lotion, I do my stretches again. And throughout the day–if I'm reading, I do my sit-ups. If I'm in plane rides, I do sit-ups. If I'm waiting for a meeting–if someone else is not there–I would be doing push-ups," she explained.