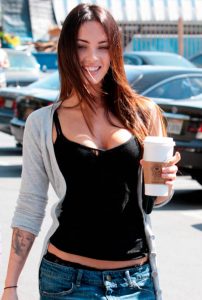 Hollywood star Megan Fox had her career beginnings in the early 2000s. During her initial years, she made her TV debut with a starring role in Ocean Ave.. She also joined the main cast of the short-lived show The Help. Her first notable role on the small screen was as Sydney Shanowski in Hope & Faith. In the movies, she made her debut in Holiday in the Sun in 2001. She next played the main antagonist in the teen movie Confessions of a Teenage Drama Queen.
Her major breakthrough came in 2007 as Mikaela Banes in the movie Transformers. She reprised her role in the sequel Transformers: Revenge of the Fallen. She went on to play the lead in Jennifer's Body. In the 2010s, she starred in the movies Jonah Hex, Passion Play, Friends with Kids, and This Is 40. Recently, she starred as April O'Neil in Teenage Mutant Ninja Turtles. Teenage Mutant Ninja Turtles: Out of the Shadows. She also played Reagan Lucas in the comedy series New Girl. She will star in the 2018 upcoming movie Zeroville.
Transformers actress Megan Fox has since been known for her remarkably toned figure. Now a mother of three, the actress remains fit and slender thanks to her consistent workout routine. In an interview, she admitted to being serious in her fitness regimen. She said: "I exercise really hard twice a week. I got my ass kicked this morning before I came here. I do bursts of cardio with really heavy weights. Circuit training."
There are times that the actress, just like any other person, feels not in the mood to workout. She said: "Trainer comes to my house 3 times a week and makes me to go through the exercises. I don't even need to leave the house….I am always like: Not Today! Not Today!" Basically though, Megan alternates between doing pilates, cardio and attending spin classes.