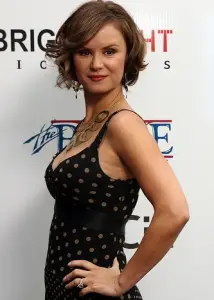 Hollywood star Keegan Connor Tracy initially had one-time roles in such shows as Viper, Breaker High, and The New Addams Family, during the late 1990s. In 1999, she made her first movie appearance in Double Jeopardy. At the same time, she starred as Audrey Malone in the Showtime series Beggars and Choosers. She next had performances in the films Duets, Duets, Blackwoods, and 40 Days and 40 Nights.
After this, Connor Tracy starred as Katherine "Kat" Jennings in Final Destination 2. Later, she starred as Diane Hughes in the sci-fi series Jake 2.0. This was followed by more guest roles on television, such as in The 4400, Stargate SG-1, and Supernatural, among others. She went on to appear in the films A Problem with Fear, White Noise, Chaos, Numb, and The Women. From 2011 to 2018, the actress became known for her role as Blue Fairy / Mother Superior in Once Upon a Time.
At the same time, she had recurring parts as Miss Blaire Watson in Bates Motel and Professor Lipson in The Magicians. She's also best known for her role as Queen Belle in the Disney Channel Original Movie Descendants, as well as in its sequels. In 2019, she portrayed Rosanne Siino in the docudrama Valley of the Boom. In addition, the Canadian star had performances in the films The Company You Keep, Words and Pictures, as well as starred as Jordan Blair in Dead Rising: Watchtower and Dead Rising: Endgame.
Keegan Connor Tracy stays in shape by minding the importance of a healthy lifestyle. She eats mostly organic foods and has since stayed away from oily and sugary foods. That's why she rarely eats processed foods, expect during a few instances where she has cravings. Her diet plan typically consists of fish, chicken, and occasionally steak, rice, whole grains, and plenty of fruits and veggies. In between meals, she keeps herself full and invigorated with smoothies, fresh juices, nuts, and fruits.