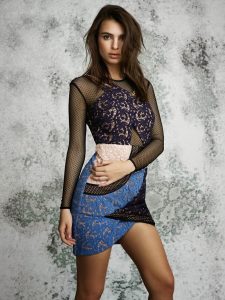 American model-actress actually Emily Ratajkowski started acting in the mid 2000s. During this time she acted in a short film, as well as in an independent movie. Few years later, she appeared as Tasha in two episodes of the teen series iCarly. In the 2010s, she ventured to modeling and got her break after starring in Robin Thicke's music video of "Blurred Lines" in 2013.
That same year, she also appeared in the music video of Maroon 5's "Love Somebody". Thanks to her recently gained mainstream attention, she landed a supporting role in the film Gone Girl. This starred Ben Affleck and Rosamund Pike where she starred as the mistress of Affleck's character. Afterwards, she appeared as herself in the film Entourage. That same year, she starred in the movie We Are Your Friends.
The 26-year-old actress maintains her slender figure and toned body by trying to eat as healthy as possible. She also does her best to sustain regular workout habits. But just like anyone else, the beautiful model-actress also admits to finding it hard to exercise, but she does it anyway with workouts that she likes. In an interview, she said:
"Weekends don't really exist. I'll randomly have a Monday off, then work Saturday and Sunday. [On my] days off, I'll get some time to exercise…I really like to hike. LA is a great place for that. And doing yoga a couple of time a week is a really big part of my regimen."
Overall, she doesn't obsess with going to the gym. She just takes it simple by doing simple exercises. She said: "I'm just not a crazy fitness person. I don't have a trainer, and I don't really go to the gym." She prefers going to yoga classes and then going on an adventure outdoors by hiking. She likes that way rather than being restricted to the confines of fitness centers.