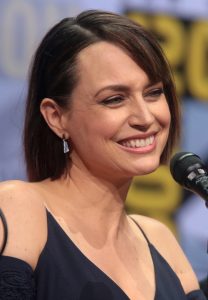 American actress Julie Ann Emery first played the role of Amelia Keys in the 2002 miniseries Taken. She next made her cinematic debut in the 2005 film Hitch, as well as made guest roles in the television shows Ghost Whisperer, Bones, October Road, Army Wives, The Riches, Dexter, Cupid, and Terminator: The Sarah Connor Chronicles.
At the same time, she starred in the TV movie Pictures of Hollis Woods, followed by a role in the 2008 horror film House. In the 2010s, Emery made notable guest appearances in such shows as Suits, Damages, NCIS, Unforgettable, and Masters of Sex. She also played recurring characters Ida Thurman in Fargo and Betsy Kettleman in Better Call Saul.
Later in 2016, she played Det. Stephanie Dunn in several episodes of Major Crimes. Between 2017 and 2019, she became further known for her role as Lara Featherstone in the AMC series Preacher. After this, she starred as Marion Scheisskopf in the Hulu miniseries Catch-22. This year, she recently played the part of Agent Sylvia Reece in several episodes of Bosch. Other film roles include Movie 43, Gifted, and I Hate Kids.
Julie Ann Emery was diagnosed with prediabetes when she was 19. Since then, she has learned to live a healthy lifestyle to manage her overall health and well-being. To do this, she combines healthy eating and daily exercise as part of her routine. "Even though I'm the one making the decision to have veggies instead of fries, having the support of loved ones helps me stay on course with closely tracking my health," said the actress. Her workout routine normally involves running, stretching, and cycling. She also swears by yoga and Pilates. In addition, the actress enjoys doing more outdoor activities such as hiking.