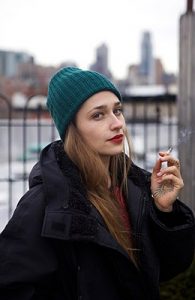 English-American actress Jemima Kirke had her career beginnings in the mid 2000s. Her debut was in a short film. In 2010, she starred in Lena Dunham's movie Tiny Furniture. She continued working with Dunham, landing the role of Jessa Johansson on the HBO series, which Dunham created. She starred on said show during its run on television from 2012 to 2017. Her work here also gained her mainstream prominence. While on the show, she's also starred in the film Ava's Possessions. This year, she's starred in the films The Little Hours and Untogether. She is set to appear on the upcoming dark-comedy series Maniac as a recurring character.
The actress became more conscious of her fitness during her second pregnancy. It was around this time that she started working with her trainer and became more careful of what she eats. Jemima also shared how she once went through a watermelon diet, which she admitted was too tough to maintain (she said this diet only lasted for five minutes). The actress also admitted how she wanted to look super slim that she would work so hard weeks before shooting Girls.
Of this, she said: "I always gain five pounds before I shoot. Always. Because I'm trying not to gain five pounds." In the end, she had this to say: "Fad fitness" and nutrition, she says, aren't only hurting us physically. It's just so disempowering. As individuals it disconnects from our bodies with this one-size-fits-all attitude. And, on a grand, historic scale, she points out, it's a way we keep women down. We're wasting time counting calories instead of becoming the president." Overall, she tries her best to lead a healthy lifestyle, which means sticking to a nutritious and a well-rounded diet. She also works out whenever she can; not to look slim, but to stay fit and healthy.