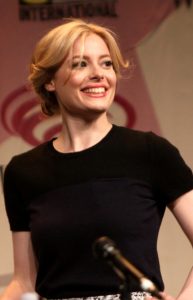 Gillian Jacobs is an American actress who first came to prominence on the small screen. As she joined many popular television shows, she eventually penetrated the big screen and is now slowly making a name for herself using her beauty, wit, and great talents. Her first significant role on TV was as Britta Perry on the comedy series Community, which became highly popular and paved the way for her to be a familiar face and name. Simultaneously, she also worked as a voice actress for the animated series Monsters vs. Aliens. At the same time, she was also being prolific in the movies with appearances in the films Solitary Man, The Incredible Burt Wonderstone and Made in Cleveland. She also starred in the indie movie Life Partners. She also recently starred in Hot Tub Machine 2.
After Community, she played a recurring character on the HBO series Girls and now stars on the new TV series Love.
The beautiful actress is currently enjoying her flourishing career, thanks to her awesome character on Community, which led her to obtain other promising roles both on the small screen and movies. Although she's mostly involved in indie films, her great acting chops are being noticed, and it wouldn't take a long time for her to make it bigger in Hollywood, soon. The actress is also recognized for her amazing body, which naturally, she's able to maintain through clean and healthy eating. But aside from this, Gillian also observes a healthy lifestyle through exercising.
Whenever she can, she goes to the gym to work out. She tries her best to regularly do so at least three times a week. Though basically, she considers herself physically active because she's fond of cardio exercises, from the simple acts of jogging and even walking. As an actress who needs to act on television and film most of the time, Gillian also recognizes the necessity to stay not only fit, but also strong and healthy. That is why in the recent years, she focuses more on developing her healthy physical habits.