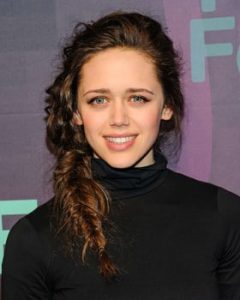 English celebrity Daisy Head started her professional acting career in 2004. During this period, she starred as Kate Barber in the TV series Feather Boy, which was short-lived. She next had one-time roles in such television shows as Rose and Maloney and Trial & Retribution. She also starred in the TV program Patrick's Planet where she had a main role.
After this, Head appeared in an episode of Doc Martin. In 2010s, she made her big-screen debut in the movie The Last Seven where she played the part of Chloe Chambers. At the same time, she guest-starred in 2 episodes of Holby City, as well as performed in the TV movie Rules of Love. She next made one-time roles in Doctors and Endeavour before getting a recurring part in The Proxy. Her next role was as Julie Thatcher in the TV film When Calls the Heart.
Continuing her career, the actress starred as Amy Stevenson in the third series of the British show The Syndicate. Subsequently, she became known for her role as Grace Atwood in the American series Guilt, which aired on Freeform. Next, she acted in the TV pilot A Midsummer's Nightmare. More recently, she starred as Ruby in the ITV show Girlfriends. She also portrayed Kate Bottomley in the period drama Harlots. She will star in the upcoming Netflix series Shadow and Bone.
Staying in shape for Daisy Head is a crucial part of her lifestyle. That's why she makes sure she follows a healthy one. Apart from her regular workouts, she also takes care of her body by eating well. With this, she's since removed dairy and gluten from her diet. Doing so has since made her felt so much better. The English actress is also pescatarian so she doesn't eat any red meat or even poultry. She only gets her protein from fish.