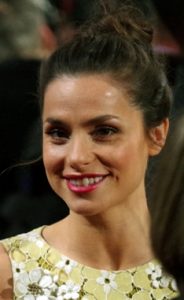 English actress Charlotte Riley had her career beginnings in the late 2000s. She first debuted in an episode of the TV series Grownups. Later, she had one-time roles in the TV shows Holby City and Inspector George Gently. In 2008, she had her first movie role in the British romantic comedy film Easy Virtue. The following year, she portrayed Catherine Earnshaw in the TV movie Wuthering Heights.
At the same time, she played Maggie Summers in the crime drama series Maggie Summers. She also starred in the made-for-television movie Spanish Flu: The Forgotten Fallen. In the 2010s, she first appeared as Lucy Payne in DCI Banks. She next played the role of Alice in the TV drama The Town. Riley became further known for her portrayal of Caris in the miniseries World Without End, for which her acting was praised.
She later had roles in the films Entity and Edge of Tomorrow. She also played recurring character May Carleton in Peaky Blinders. In 2015, she starred as Peggy Gardner Chase opposite Chris Hemsworth in the film In the Heart of the Sea. She went on to play Jacquelin "Jax" Marshall in the action movie London Has Fallen. More recently, the actress had performances in the miniseries Press, Trust, and A Christmas Carol.
Charlotte Riley stays healthy by following a healthy lifestyle. For starters, she keeps her body strong and fit by doing regular workouts. She runs, she works out at the gym, she plays sports, and she engages in some outdoor activities if time permits it. She's a very active person who enjoys with having a productive lifestyle. As an actress, Riley also takes her workout routine to the next level if an acting role requires it. For instance, her role in the sci-fi action film Edge of Tomorrow, it was reported that she did six weeks of physical training just to prepare her body.