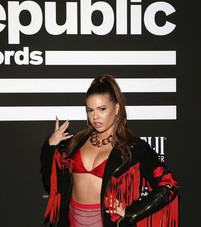 TV celebrity Chanel West Coast first appeared in the MTV reality series Rob Dyrdek's Fantasy Factory. She was part of the show's main cast from 2009 to 2015, gaining her recognition on the small screen. Later in 2011, she played the role of Stella in an episode of the TV series The Hard Times of RJ Berger. During this period, she also started starring as herself in the comedy clip show Ridiculousness.
She still appears as part of the program's main cast until now. West Coast has also ventured into voice acting, playing the role of Flipz in the animated series Wild Grinders from 2012 to 2015. As a recording artist, she first recorded the song "Melting Like Ice Cream". In 2013, she released her debut mixtape with Now You Know. Her second mixtape, Waves, was released two years later. More recently, she appeared as herself in the television shows Love & Hip Hop: Hollywood and Fear Factor.
Chanel West Coast has a very active lifestyle with her regular fitness regimen. In an interview, she also talked about how she's not strict with her diet because she works out consistently. "You need to work out! I mean a lot of people like to start themselves on cute diets but the truth is you can really eat whatever you want as long as you workout on a daily basis," said the celebrity.
As for her workout routine, she said it's also about aerobic exercise. "I wouldn't say any workout is bad or I hate it but for women focus on your cardio, because if you do too much weights and you are a woman then you are going to bulk up a little bit you know," she explained.