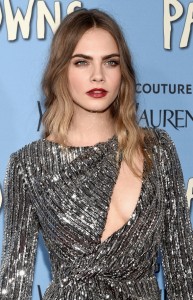 English celebrity Cara Delevingne is now one of Hollywood's most sought-after young stars. After leaving school, Cara heeded the call for an entertainment career and started modeling. A few years later of fashion work, she was able to catch the attention of important people in the modeling industry, bagging the coveted "Model of the Year" award at the British Fashion Awards twice in 2012 and 2014. Wanting to explore further, she decided to try acting, her first time being in Anna Karenina (2012). Because of her remarkable presence onscreen, Cara landed other roles on the cinema, her first starring role happening in Paper Towns released in 2015. She will star as the Enchantress in the much awaited superhero feature film Suicide Squad to be released in 2016.
23-year-old actress and model Cara Delevingne is not only notably known for her fierce facial features, she's also known for her long, slim stature, which is why she became a model first before becoming an actress. Standing at 5'8, Cara's thin body frame may be her natural figure, but she still works out from time to time to keep her lean and strong. When it comes to her dietary regimen, it can be noted that since the actress is naturally skinny, Cara doesn't really do any dieting. It doesn't mean that she's completely careless when it comes to healthy eating, she's just less strict when it comes to her eating habits.
On the contrary, the celebrity said she actually wants to gain weight as she finds herself too skinny and would want to achieve a more curvy figure. Thus, she said she eats whatever she wants and eats a lot when she can. Based on her Twitter posts, it can also be assumed that Cara is fond of eating fast foods, posting foods from McDonald's as well as eating pizza for her fans to see. She doesn't care about extra calories as she's already slender. Of course, Cara also recognizes the need to eating healthy food, so she makes sure she consumes sufficient protein.