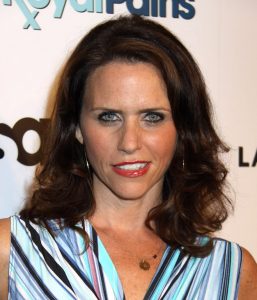 It was in 1998 that actress Amy Landecker got her start in the entertainment industry. She made her debut in the independent film Temporary Girl. Afterwards, she made her TV debut in Early Edition. The rest of the 2000s saw her mostly landing guest roles on some TV shows. She also acted in the movies Dan in Real Life and A Serious Man. In the 2000s she appeared in 4 episodes of Louie.
She then landed a regular role on the short-lived series The Paul Reiser Show, after which she played Dr. Michelle Banks in Revenge. She gained wider prominence thanks to her role as Sarah in the acclaimed series Transparent, which she has been starring in since 2014. She also voiced the role of Barbara Lake in the animated series Trollhunters. Her latest work on the big screen were Doctor Strange, Beatriz at Dinner, The Hunter's Prayer, and A Kid Like Jake.
In order to maintain not only her slender figure but also her overall well-being, the actress makes sure that she follows an active lifestyle. Not only does she eat healthily, she also exercises in order to feel good inside and out. She understands the importance of the two. These basically are her secrets to having a svelte physique. Of course, being healthy inside and out helps her gain the energy she needs in order to work as an actress more efficiently.
In an interview, she got candid about her healthy lifestyle habits, one of which is staying active through workouts. She said: "I try to work out four times a week and walk every day for at least a mile or two. I weight train with Steve Zim at A Tighter U in Culver City and take yoga with Steve Ross at Maha Yoga in Brentwood and Pilates with Kinga Knight at Yoga Works in Pasadena."