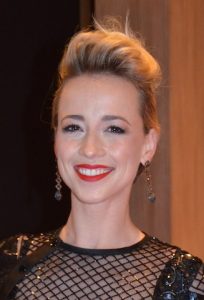 Hollywood actress Karine Vanasse debuted in the 1999 French-Canadian film Set Me Free. During her beginnings, she also appeared in some French-language Canadian shows. In the early 2000s, she landed roles in such films as Séraphin: Heart of Stone and Head in the Clouds. In 2006, she starred in the miniseries October 1970, as well as played the titutlar character in the TV movie Marie-Antoinette.
At the same time, she had performances in the feature films Without Her, My Daughter, My Angel, and Polytechnique. In 2011, she had a role in the movie Midnight in Paris, followed by roles in Switch, I'm Yours, and French Immersion. On the small screen, she had her first starring role as Colette Valois in the period drama series Pan Am. Vanasse gained wider recognition for playing the character of Margaux LeMarchal in the ABC series Revenge.
While on the show, she starred in the movies All the Wrong Reasons, Turning Tide, X-Men: Days of Future Past, Buddha's Little Finger, The Forbidden Room, and Paul à Québec. In 2017, the actress starred in the films Father and Guns 2 and Worst Case, We Get Married. She went on to star as Lise Delorme in the Canadian series Cardinal. She simultaneously played recurring role Audrey Grenelle in the CBS series God Friended Me.
Karine Vanasse maintains her fit body by sticking to a healthy lifestyle. She works out on a regular basis and follows a clean diet plan. She prefers organic foods and usually avoids meals that are processed. It is also rare that she eats something she knows is bad for her. When it comes to choosing her food, knowing where it comes from is important, especially with meat. Most of the time, she prefers meals consisting of big salads with grilled root veg. She also makes sure even her salad dressing is healthy picking the kind that is made from tamari and nutritional yeast.