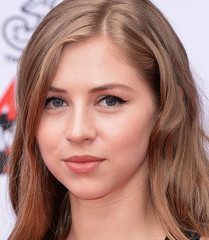 English actress Hermione Corfield got her start in 2014. She had her first acting role in the film 50 Kisses. The following year, she had a role in the movie Mr. Holmes. At the same time, she played a minor character in the film Mission: Impossible – Rogue Nation. Later in 2016, Corfield played the role of Cassandra Featherstone in the action-comedy horror film Pride and Prejudice and Zombies.
Simultaneously, she played Gabrielle "Gabbe" Givens in the movie Fallen. On television, she had her first role in an episode of Endeavour in 2016. She went on to have performances in the feature films XXX: Return of Xander Cage, King Arthur: Legend of the Sword, and Star Wars: The Last Jedi. The actress then became known for her role as Emma Garland in the British series The Halcyon, appearing in a total of 8 episodes.
Following this, she appeared in the films Bees Make Honey and Slaughterhouse Rulez. This year, she got more prolific with performances in a couple of movies. This includes 2019's Rust Creek and Born a King. She will star in the upcoming Irish film Sea Fever. Also, it was recently announced that she got a part in the upcoming heist movie The Misfits.
Despite her young age, the actress focuses on getting healthier and fitter. Most of the time, her meals consist of clean, whole foods. Not only does this help her stay slender, but it also helps her feel great from the inside out. She has indulgences involving salt, sugar, and carbs but she keeps them in moderation. Even when she's on the go, she tries to avoid processed meals.
When she gets hungry on set, she eats healthy snacks like blueberries, nuts, and dried fruits to keep herself full for longer. As for her primary meals, they typically consist of fish or chicken with salads on the side. She always incorporates fruits and vegetables into her meals. Plus she drinks plenty of water for hydration.