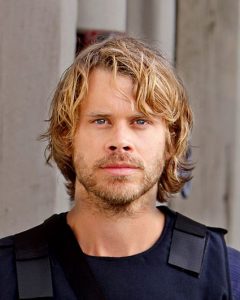 Hollywood actor Eric Christian Olsen debuted in 1997. He first appeared in an episode of Beyond Belief: Fact or Fiction. His first role on television was as Cameron Green in the comedy-drama Get Real. In the 2000s, he landed several roles in movies. He first appeared in 2001's Pearl Harbor. He went on to appear in the films Not Another Teen Movie, Local Boys, The Hot Chick, and Cellular.
Olsen then starred as Lloyd in Dumb and Dumberer: When Harry Met Lloyd. Afterward, he starred in the movies Beerfest, The Last Kiss, License to Wed, Sunshine Cleaning, Eagle Eye, Fired Up, and The Six Wives of Henry Lefay. After playing Jensen Ritchie in 5 episodes of Tru Calling, he starred as Sully Sullivan in The Loop. He also played Kyle DeWitt in the TV drama Brothers & Sisters and Vaughn Miller in the comedy show Community.
Since 2010, he's been starring as LAPD Detective Marty Deeks in NCIS: Los Angeles. At the same time, he played recurring character Wade in Kick Buttowski: Suburban Daredevil. He also continued his film career in the 2010s. He had performances in The Back-Up Plan, Celeste and Jesse Forever, The Thing, Band of Robbers, Sun Dogs, and Battle of the Sexes.
The actor takes care of his health by eating right and working out. Also, part of his workout routine is that he trains to be more physically fit to play his role on NCIS: Los Angeles. For starters, his brother, who's actually his stunt double and a former Navy SEAL designs his fitness regimen. "We run laps, do push-ups, pull-ups, sit-ups," said Olsen. "Plus, I surf, that's better than any workouts because your body gets completely shredded," he added.