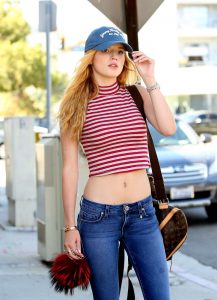 Hollywood celebrity Bella Thorne started her career in the early 2000s. One of her early works was in the film Stuck on You. Her first significant role was as Margaux Darling on the TV series Dirty Sexy Money. She then starred on the TV shows My Own Worst Enemy and Little Monk. Both were short-lived, though. She got her main break in the 2010s after securing the role of CeCe Jones on the Disney series Shake It Up. During this period she also appeared in the films One Wish and Raspberry Magic. She next starred as in the film Blended as Hilary "Larry" Friedman. Other films are The Duff, Big Sky, and Boo! A Madea Halloween. She now plays the lead on the new series Famous in Love.
The 20-year-old actress, despite being so young, invests significant amount of time with her fitness. This is apparent with her super lean figure. She also shares her gym snaps on social media for her fans to see. In an interview before, she said she doesn't spend much time performing cardio exercises. Instead, she focuses her time and energy to doing weight lifting and circuit training. She even undergoes intense boxing routine to keep in shape.
About her fitness routine, she said: "I am looking to build lean muscle with aerobic conditioning. My workout consists of an hour and I always make time for proper stretching before and after my workout." Since she can't go to the gym all the time to workout, she settles in just training at home since most of her workouts don't really require gym equipment. Warming up helps her gear up for her main sessions, which mostly involves working on a series of planks, viper wood chops, and suspension band exercises. She focuses on her core muscle groups and arms and waist, too.