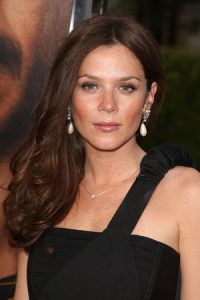 English actress Anna Friel had her career start in the early '90s when she debuted on the miniseries G.B.H. She next played Beth Jordache on the show Brookside, followed by her role as Bella Wilfer on Our Mutual Friend. During this period, she also had roles in the films The Land Girls, The Tribe, A Midsummer Night's Dream, and Rogue Trader. Her career became more active in the 2000s where she starred in the films Sunset Strip, Me Without You, Timeline, Goal!, and Goal! 2: Living the Dream… She next played the titular character in the movie Bathory, followed by another starring role in Land of the Lost.
From 2007 to 2009, she also became known for starring as Charlotte "Chuck" Charles on the Hollywood series Pushing Daisies. In the 2010s, she starred in the movies You Will Meet a Tall Dark Stranger, Limitless, The Look of Love, Good People, The Cleanse, and Tomato Red. She also played the lead Sgt. Odelle Ballard on the NBC series American Odyssey. As of 2016, she plays lead role Det Sgt Marcella Backland on the British series Marcella. She's also played Erica Myles on the show The Girlfriend Experience, as well as starred on the miniseries Butterfly.
Aside from eating right, the English beauty also maintains her slender and toned figure by working out. She's been reported to taking extreme measures when it came to losing her weight because of her very skinny figure in the past. But it's all different now especially she's since become a mother. Talking about what she does for fitness, she said she loves Pilates. "But it's too expensive here and you have to book three weeks in advance," she shared. Her alternative? She works with a trainer and walks a lot since running is not good for her. According to her, running hurts her back so she stays away from it and sticks to walking.